Jersey gets ready for the Battle of Flowers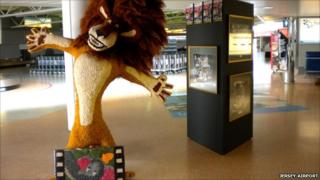 Miss Jersey Battle of Flowers will be greeting passengers arriving at Jersey Airport over the weekend of the 6 and 7 August.
Along with Battle Bee, Miss St Brelade and Miss St Peter, Miss Battle of Flowers Alice Cubbage will be handing out floral garlands to promote the parades on Thursday 11 and Friday 12 August.
There is also a display of past battle exhibits including a model of Alex the lion from the film, Madagascar.
And for the first time, Jersey Airport is also displaying all the entries from a recent mini battle competition by pupils from St George's School, with up to 15 of the floats, all designed and built by the children.
Steve Read from the Airport said passengers particularly like the personal welcome, and it may encourage some of them to come and support the event.
BBC Radio Jersey is entering a decorated car into the parade this year for the first time.
It is being decorated by staff using paper flowers and will be in both the Battle of Flowers day parade on 11 August and the moonlight parade on 12 August.
BBC Radio Jersey has been advised by some battle veterans who shared their expertise of years of float building.
Battle history
The Jersey Battle of Flowers takes place every year and islanders build floats and decorate them with flowers.
It started life as a celebration of the coronation of King Edward VII in 1902 but was so popular it returned the following year.
In the early days of Battle, floats were usually horse drawn and flowers were torn off at the end.
It was the practice of tearing and throwing flowers that gave the event the Battle of Flowers name.
Now, 109 years after that first Battle, thousands still flock to Jersey to watch the island's biggest annual event.
The Battle of Flowers stopped during World War I, starting up again in 1926, and stopped again during the German occupation of the island, resuming in 1951.
BBC Radio Jersey will be broadcasting live from the Battle of Flowers day parade on Thursday 11 August, and BBC Channel Islands News will have an extended programme showing all of the floats on Friday 12 August at 18:30 BST.