Jersey Live festival entry system to be changed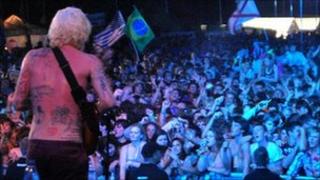 A new entry system has been set up for the Jersey Live festival in a bid to combat long queuing times.
In 2010, it took some people more than an hour to get into the Trinity festival ground after thousands arrived at the same time.
Security checks were eventually abandoned to ease the crush.
For the 2011 event, organisers said they will use an automated process allowing people to get their entry wristbands in less than 10 seconds.
Festival organiser, Warren Le Sueur, said they would also wait to perform age checks on festival-goers until hey were inside the grounds.
Age-checks
He said: "We are taking away the age-verification at the gate point which was causing some congestion last year.
"That will be brought onto the site and there is going to be some age verification booths situated near to the main bars.
"What we are adopting this year, which is consistent with many other festivals, is an under 25 policy which is where anyone unfortunate enough to look under 25 will be asked for ID."
The lay-out of the festival arena has also been changed with the main stage moving to the area that used to host the Les In Rocks stage.
Jersey Live is the first weekend in September and will see acts like Madness, Plan B and Zane Lowe perform.