Jersey Pottery moves from its base in Gorey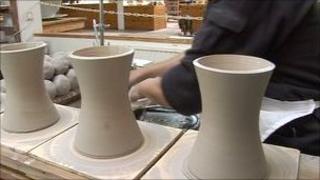 Jersey Pottery is to stop producing pottery in Jersey and will be moving out of its Gorey base after selling the site to developers Dandara.
About 50 houses are likely to be built on the site which has been home to the company since 1946.
The company is moving all pottery production to the UK, but its retail and catering outlets will remain in Jersey.
Details of the deal are not being released.
'Very emotional'
Jonathan Jones, director of Jersey Pottery, said manufacturing in Jersey was expensive.
He said: "We manufacture because we have the site and it has been lovely to do that, but manufacturing in Jersey is very expensive and that has forced manufacturing from the island."
Jersey Pottery employs up to 200 in the island and said it was not planning to lose any of them.
Mr Jones said leaving Gorey would be difficult.
"It is very emotional, we have been here 65 years, my grandfather started it and we've got a lot of people who worked here and still work for us on the site, but we have got to move on," he said.