Jersey's foreign minister role criticised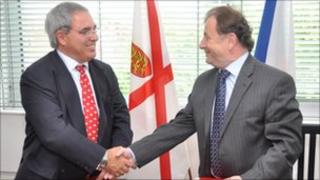 States members are questioning why a politician is representing the island abroad without a States mandate.
Senator Freddie Cohen was appointed Assistant Minister with special responsibility for foreign affairs by the Chief Minister at the end of 2010.
Senator Le Sueur could make the appointment without consulting the States as it is a function that is under his department's control.
Deputy Montfort Tadier wants the issue brought out into the open.
Deputy Tadier along with Deputies Roy le Herissier, Trevor and Shona Pitman and Senator Alan Breckon said the role was created without States consent.
The politicians want the Chief Minister to review the role that has seen Senator Cohen represent the island in China, Israel and Malta.
Senator Le Sueur said that as Senator Cohen was an Assistant Minister there was no need to ask the States for approval.
He said Jersey needed someone dedicated to the task following the decision by the UK Coalition government to scale back the Ministry of Justice, which is responsible for relations with Jersey.
Although he has been described as Jersey's Foreign Minister, he is not officially listed as such on the States Assembly website as all new ministerial appointments require approval from the States Assembly.
Deputy Tadier has asked the matter be discussed at the next Council of Ministers meeting.