Jersey Battle of Flowers change upsets exhibitors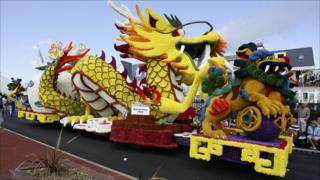 Changes to the way floats are judged in the Battle of Flowers has been criticised by exhibitors.
A quarter of the points awarded to floats in this years parade will be done so during the parade itself.
Tony Perkins from the Battle of Flowers association said the change was agreed to take "carnival atmosphere" into account.
Paul Michel from the Optimists Club said he felt it was being done to benefit tourism.
In 2010 all of the judging took place before the parade which meant the winning floats could display their awards while going around the arena.
But due to 25 of the 100 points awarded by judges not being given until the end of the parade that will not be able to happen.
Marcus Davies, St Clement float designer, said: "I felt we were at a level and at a stage where the judging, the announcing and showing the awards in the arena was really great for paying viewers however we will have to wait and see."
Mr Perkins said that the exhibitors agreed to the change at a meeting in December.
The St Clement float won the main prize, the Prix d'Honneur, in 2010 but there was some criticism that the float had not been finished.
Mr Davies said: "It was an issue in several people's minds and I know that is something they are going to look out for this year, which is why we're pulling out all the stops to get it together."
The Optimists club came second, but changes to the judging this battle could work in their favour.
Mr Michel said: "We always have a good time on the parade and we build floats that are fun to do and perhaps the judging will suit us more because it is being judged in the arena for overall impression and I will be surprised if anybody puts on a better show than us this year.
"We are probably going to be listening to BBC Radio Jersey to find out the results as we are likely to be parked in our club room having a nice beer."
The main parade takes place on Thursday 11 August from 14:30 BST along Victoria Avenue in St Helier.