St Clement wins top Battle of Flowers prize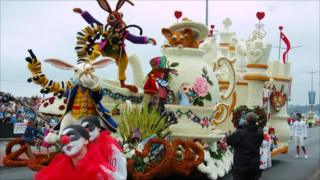 St Clement has won the 2011 Jersey Battle of Flowers main prize with its Alice in Wonderland-themed float.
Second prize in the annual parade was awarded to the Optimists Club for their Wild West theme float.
Thousands of people lined Victoria Avenue along the south of the island for the parade.
The event regularly attracts about 20,000 people each year. It was first held in 1902 as a celebration for the coronation of Edward VII.
Other winners included the best paper float award for Peter Heath and Friends.
Grouville won the prize for best Parish float with their Thai Temple entry.
Moonlight Parade
There were 27 floats entered into the 2011 Battle of Flowers as well as marching bands, entertainers and smaller contributions including BBC Radio Jersey's fifties themed entry.
Prizes are awarded in a number of categories including best float, best parish float, paper flowers and wildflower.
St Clement used Lewis Carrol's Alice's Adventures in Wonderland to design and build their Prix d'Honneur winning float.
The runners up, the Optimists Club, took the Prix d'Excellence for the Wild West, a steam engine made of flowers.
The floats are parked at Millbrook on the south coast of Jersey overnight before having lights attached ahead of the Moonlight Parade on Friday.
The BBC is sponsoring a new award for the Moonlight Battle of Flowers Parade.
Floats in the flood-lit procession along Victoria Avenue will be competing for the new "Best Carnival Atmosphere Award" supported by the BBC in Jersey.
The cup will be given on an annual basis to the entry deemed to best capture the mood of the Moonlight Parade.
Jersey's Bailiff, Michael Birt, opened the Grand Day Parade in the absence of a Lieutenant Governor.