Concern at cost of Jersey Battle of Flowers floats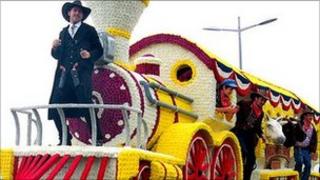 Battle of Flowers organisers have expressed concern at the cost of putting on the annual parade.
Battle chairman Tony Perkins said he was not sure how the standard of floats could improve when they cost so much.
The politician in charge of tourism said the States was committed to keeping the Battle of Flowers the premier summer event.
Senator Alan Maclean, Minister for Economic Development, said the States provides £130,000 of funding per year.
He said: "There are many ways we can support it, financially is one but I think we need to help the Battle in many other ways to ensure it has a future as we move forward."
Mr Perkins said that with more than half of the cost of a large float costing about £25,000 to produce going on flowers, it could be difficult for standards to rise much further.
The designer of the 2011 winning float by St Clement, Marcus Davies, said there were ways of building floats on a budget.
He said: "There are ways of making something out of nothing, a lot of our float is made of disused cardboard boxes.
"You want a finished product and how you get to that finished product is up to you, it doesn't have to be an expensive route."
The Battle of Flowers moonlight parade starts at 21:00 BST along Victoria Avenue in St Helier, Jersey.