Parish of St Brelade won illuminated float Battle prize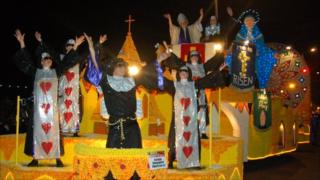 More then 15,000 people lined Victoria Avenue for the Jersey Battle of Flowers moonlight parade.
Like the day parade, certain floats receive awards including one for best larger illuminated float which went to St Brelade.
The moonlight carnival atmosphere award for larger floats went to the Optimists Club for their Wild West-themed entry.
The moonlight parade saw the floats covered in lights and converted for the evening showcase.
Hundreds of people including dancers, street entertainers and bands performed for the crowd.
Exhibitors spent Thursday night and Friday adding lights to their floats, costumes and set pieces.
Moonlight awards
The best small illuminated float went to Bidan family and friends juniors for their witchcraft-inspired float, Flight School.
The moonlight carnival atmosphere award for smaller floats went to St Peter Juniors for their Cowboy and Indian-themed float, Pow Wow.
And the Grand Day Parade spectator award, chosen by a randomly selected stand, went to St Clement who also won the main prize.
There were 27 floats in the Battle of Flowers this year with St Clement taking the first prize and Optimists second.
After the Battle of Flowers main parade, organisers announced that the Jersey Young Farmers Club won the Senior Youth Club Award for a class 11 float and Friends of Galaad for a class 9 float.
The Parish of St Clement won the best set piece floral award for the white rabbit on their Alice in Wonderland float.
And the Parish of St Helier won the best set piece paper/semi-floral prize for their three pirate ships.
The event regularly attracts about 20,000 people each year. It was first held in 1902 as a celebration for the coronation of Edward VII.