Jersey stabbings: Friend describes victims as 'loving family'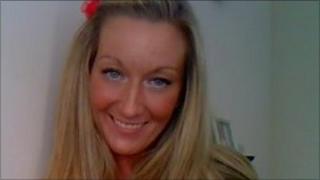 A friend of a woman who was one of six killed in a knife attack in Jersey on Sunday has spoken of her disbelief.
Izabela Rzeszowska, her two children, Kinga and Kacpar, and her father Marek Garstki are believed to have been among those stabbed to death.
A 30-year-old man, named locally as her husband Damian Rzeszowski, has been arrested and is in hospital.
Mrs Rzeszowska's friend Marta de la Haye and four-year-old daughter Julia are also believed to have been killed.
Police said a post-mortem examination had been carried out on Monday on one of the two women who died.
A Home Office pathologist said she had died from multiple stab wounds.
Police say post-mortem examinations on the other five victims are expected to be carried out over the next few days.
'Normal and loving'
Dominika Nalichowska, a friend of Mrs Rzeszowska, said the family had appeared to be "normal" and "loving".
She said: "We have known them for nearly two years because my children and their daughter used to attend the same school.
"I have got a picture in front of me of those two little children and I cannot believe that this has actually happened.
"I still believe I will see them in the street, that I will see those children at school playing with my daughter."
Mr Rzeszowski is still in hospital and police say it may be a matter of weeks before he is fit enough for questioning.
He remains in a stable condition under police guard at Jersey's General Hospital.
'Traumatic incident'
A helpline has been set up for islanders in Jersey who feel they need support following the stabbings on Sunday.
The Health and Social Services department is working with the Samaritans to offer advice.
Dr Jake Bowley, a consultant clinical psychologist, said: "After a traumatic incident in the community such as this, it is quite a normal reaction that some islanders may feel very upset about what has happened, and we want people to know that if they need advice and support then it is available.
"If you have any serious concerns about how you or someone close to you is being affected by what has happened, please call the helpline, where we can provide free and confidential advice."
More than 6,000 people have joined a tribute page on Facebook to the victims of the attack.
A book of condolence has also been opened at Jersey's Town Hall.
The helpline for islanders is 01534 444400.