Boy rescued from cliff face on Jersey's north coast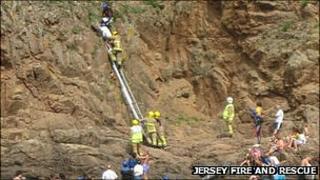 A boy stuck 20 feet up a cliff face at Greve de Lecq had to be rescued by Jersey's Fire and Rescue service.
A leader from an activities group that was nearby on Wednesday afternoon climbed up to reassure the boy while rescuers got there.
Crew Manager Ryan Hall said it was fortunate that the tide was low as "things could have got a lot more serious".
A ladder was used to get to the boy and escort him down safely.
The Fire Service said the boy was calm and relaxed while he waited to be rescued thanks to reassurance from lifeguards and help from the man from an activities group.
Crew Manager Ryan Hall said: "The quick actions of the lifeguards and the nearby [man] meant that the youth was made to feel secure and safe until our arrival and are to be praised for their valuable part in the rescue."
He added: "We want to encourage outdoor activity and youngsters to have fun and test themselves.
"As a guide head protection is a must, if you need it on a bike you will need it climbing. Greve [de Lecq] is tricky and the tide is surprising and most of the rockfaces quickly become cut off.
He said it would have been a more challenging rescue had the tide been up against the rocks as the Fire Service would then have had to use the Inshore Rescue Boat.