Jersey government uses comedy to encourage voters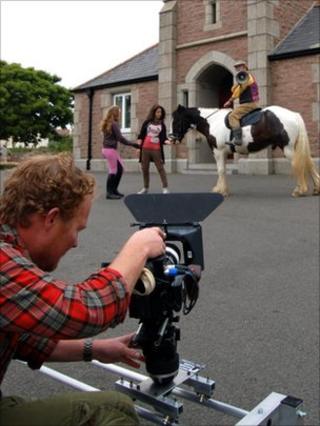 A Jersey comedy character has been used by the island's government to encourage people to vote.
Hedley le Maistre is the creation of a local songwriter and is supposed to be a farmer from St Ouen, with strong opinions and an even stronger accent.
The States of Jersey have asked the man behind Hedley to create a song and short film in the hope of improving turnout at the election in October.
The film was made by Jersey-based production company Fortress Island Films with the help of Grainville secondary school.
The film's director, Andy Evans, said he were pleased to have been able to help raise awareness of Islanders' right to vote.
He said: "It wasn't hard to coax Hedley out of retirement as voter apathy is a real bugbear of his. Like he says: 'If you don't vote, you can't moan'."
In the film, Hedley le Maistre hears a rumour that his home parish of St Ouen is to be shut down and decides he has to do something.
With the help of Grainville school pupils, he learns the best way to make his voice heard is to use his vote.
People in Jersey will be able to vote for all but six of the 10 senators, all deputies and all constables for the first time on 19 October.
The campaign to increase voter turnout, which was as low as 35% in some areas of the island in 2008, will also see polls open one month early for pre-poll voting.
The person responsible for the Vote campaign, Deputy Greffier of the States, Anne Harris, said Hedley was the right man for the job.
She said: "We hope the film will serve as an entertaining reminder of the importance of Islanders' right to vote.
"As well as being a great film, it also contains a lot of information about the voting process in the island, including how to register to vote, how to cast your vote, how to vote in town before election day, and how to vote by post if you are going to be out of the island."
You can watch the Hedley le Maistre video on the vote.je website.