Changes to Jersey pilot booking system at airport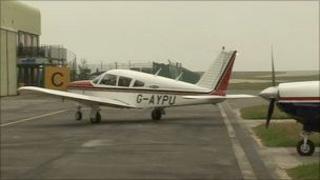 The requirement for private pilots to book ahead if they want to visit Jersey on Sundays is to be removed.
There was concern when it was introduced it would put people off flying to Jersey.
Damon Knight, the Manager of Jersey Air Traffic Control, said Prior Permission Required (PPR) would be removed for Sunday operations from 4 September.
PPR is a system where private pilots have to pre-book special permission to enter Channel Islands' airspace.
Mr Knight said: "We do recognise that PPR does bring an extra flight planning element for pilots."
'Timely fashion'
"However, it is evident, with more than 1,000 bookings since the temporary measure was introduced on Friday 1 July, that the Channel Islands' airspace and airports are very much open for business for the general aviation community."
The decision was made during a meeting between representatives of the Aircraft Owners and Pilots Association, Air Traffic Control and the Director of Civil Aviation.
Charles Strasser, chairman of the Channel Islands Region of the Aircraft Owners and Pilots Association said: "Although we are disappointed that PPR has not been removed entirely, we recognise that this working group will allow the general aviation community to be consulted on all future changes to operations in Channel Islands airspace in a timely fashion.
He added this would help to make visits to the Channel Islands easier and more attractive to the wider community that the Aircraft Owners and Pilots Association represents.