Jersey Air Display doubt at Red Arrows appearance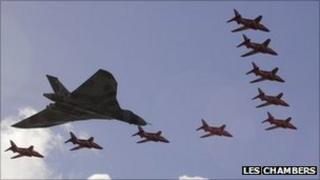 Jersey Air Display organisers said there were doubts over whether the Red Arrows would appear in 2011.
The RAF grounded the aircraft after Flt Lt Jon Egging died in a crash in Bournemouth on Saturday.
Deputy Mike Higgins, one of the organisers of the Jersey event, said if the Red Arrows did not perform it would be the first time in nearly 50 years.
He said: "We talk about them in our brochure as Jersey's own because there is nobody with that connection."
Deputy Higgins said if they did not come to the island it would be a big hole for the organisers and for the viewers.
Organisers have said they were discussing whether there should be a tribute to Flt Lt Egging during the display in September.
The Jersey International Air Display is organised on behalf of the Royal Air Force Association in Jersey as part of Battle of Britain Week.
Flt Lt Egging flew in the Jersey air display in 2010 as part of the Red Arrows display team.