Jersey police no longer moving to new office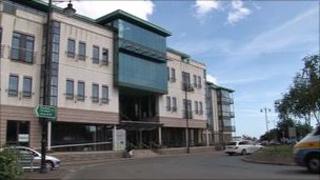 Jersey police will no longer be moving to an office building by the Green Street roundabout in St Helier.
The States was set to buy Lime Grove House but the owners are leasing it to a finance company instead.
The police had hoped to move some of their officers to the empty office block at the eastern entrance to the Tunnel.
The Treasury Minister said the States could not afford to and should not compete with the finance industry.
Senator Philip Ozouf said that a new building would be found for the States of Jersey Police as soon as possible.
He said: "Discussions for the relocation of the States of Jersey Police have been ongoing for a significant period of time, for various reasons. This latest development is regrettable and disappointing.
"I have already been in communication with the Minister for Home Affairs and the Chief of Police, to tell them that I will do everything that I can to fast track a solution which will secure new police accommodation as quickly as possible while delivering the efficiency savings that have been identified."