University tuition fee concern for island students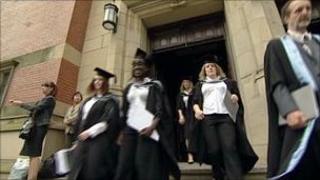 There are concerns that changes to UK university regulation could increase the cost of study for students in the Crown dependencies.
People from Jersey, Guernsey and the Isle of Man are currently treated as international students.
The island governments have previously negotiated a single island rate with the body that oversees UK universities.
But changes to the law that regulates the universities could make that kind of deal illegal.
UK universities are now treated as individual businesses able to set their own tuition fee levels, which makes creating a single deal with all universities potentially illegal under the competition law.
Officers from the three islands have begun individual talks with some UK universities.
Competition law
They hope to form agreements to ensure the fee charged to island students is no more than would be charged to a UK student for the same course.
Jersey's Director of Education, Mario Lundy, said this would not affect students starting university in 2011, and that discussions so far had gone well.
He said: "Because the government has effectively opened up the market for universities allowing them to set their own fees, they are actually in competition with each other now.
"They are governed by the competition law so they can't talk to each other which means they can't effectively agree a fee with us which creates some difficulties for us."