Man charged with murder over Jersey stabbings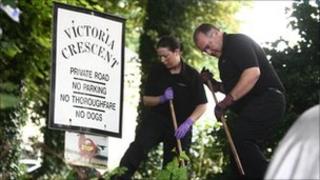 A 30-year-old man has been charged with the murders of six people including his wife and two children.
Damian Rzeszowski is accused of killing his wife Izabela Rzeszowska, 30, and children, Kinga, five, and Kacper, two.
He is also accused of killing his father-in-law Marek Garstka, 56, and Marta Dominika De La Haye, 34, and her five-year-old daughter Julia Frances.
Mr Rzeszowski has been remanded in custody until his next court appearance on 28 October.
He stood with his head bowed as the charges against him were read out to him through a translator in the hearing that lasted just under 10 minutes.
The Jersey Royal Court gathered for a special sitting in the Magistrates' Court building.
Mr Rzeszowski has been charged with murder over the stabbings that took place in Victoria Crescent on 14 August.