Charles Le Quesne will continue Jersey building work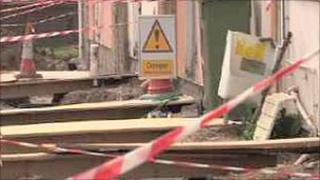 Two Jersey building projects will continue despite the company behind them going into liquidation.
Charles Le Quesne Limited went into voluntary liquidation earlier this month.
The firm is currently work at Grainville School and the Clos Gosset housing estate in St Saviour.
Treasury Minister, Senator Philip Ozouf, said he had agreed to continue using the company in order for the work to continue.
Creditors will only receive payments once work has been completed.
'Greatest benefit'
Senator Ozouf said: "The winding up order allows the States to either reinstate the employment of the company or employ others to complete the work.
"The Minister for Housing and I have agreed to reinstate the employment of the company under the terms and conditions of the original contracts.
"This offers the greatest benefit to all affected parties.
"It has been confirmed that all funds generated under the contracts will be paid to the liquidator and ring-fenced for payments due to Charles Le Quesne's employees, sub-contractors, suppliers and other parties until the contracts are completed."
Charles Le Quesne has a separate branch in Guernsey which the company said was unaffected and had a strong client base.