Jersey States websites updated ahead of election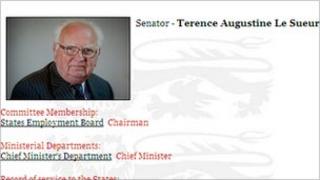 Photos of Jersey States members have been taken for a government website even though some politicians are due to step down after the October elections.
The Greffier of the States, Michael de la Haye, said he was unable to give details of the cost of the studio portraits.
He also said the update had taken longer than expected.
He said the States was spending between £30,000-£40,000 on the relaunch of the States Assembly and Scrutiny websites.
The States Assembly website was launched eight years ago and officials said while it was updated with new content, its format had not changed and it had become dated.
As part of the update, a professional photographer took new portraits for each States member's profile.
But as some of the members are stepping down after the next elections on 19 October 2011, their portraits would be on the site for just two months.
Mr de la Haye said they had hoped to have the website up and running by now, but the project was taking longer than expected.
When asked how much the photographs had cost, Mr de la Haye said he was unable to give details but said there had been a "slight cost".