Jersey to be first in Europe to get electronic lottery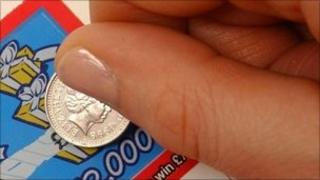 Jersey's government says it will be the first in Europe to run a scratchcard-style lottery using electronic machines in shops.
The electronic instant tickets (EIT) allow players to pay, select and scratch off their ticket on a screen.
If people win they are given a receipt to claim their prize.
The machines would be available at the shops that sell Channel Islands Lottery scratchcards, Jersey's Airport, the Harbour, pubs, hotels and supermarkets.
But tickets would still be available over the counter.
The system, which only operates in Jersey, makes the Channel Islands Lottery the first government lottery in Europe to run the system, and the company The Global Draw would manage it.
Paul Burnell, director of EIT and Lottery at The Global Draw, said: "We believe electronic instant tickets offer a new opportunity for lottery revenue growth and we are excited to pioneer this technology in Jersey.
"Not only do our new EIT terminals comply with the highest security standards, they also introduce a new and entertaining way to buy lottery tickets, which we believe will lead to increased support for local charities and good causes."
Senator Alan Maclean, Jersey's Economic Development Minister, said: "We are excited about the potential increase in revenue this may generate for local good causes."
The Global Draw said the machines would arrive in the island in early October.