Jersey lifeboat rescues broken down boat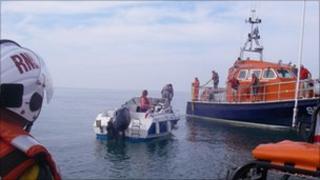 Jersey's St Catherine's lifeboat helped tow a broken down French motorboat back towards France.
The coastguard was called at 10:00 BST to help the boat that was near St Catherine's Breakwater.
It was towed to the Ecreviere Buoy, halfway between Jersey and Carteret, where it was handed over to the Carteret Lifeboat.
The Jersey RNLI lifeboat was then called to investigate an upturned dinghy in the Royal Bay of Grouville.
A member of the public arrived at the scene before the lifeboat and it was concluded that the dinghy had probably broken its moorings and was not seaworthy.
The dinghy was towed to Gorey by the lifeboat.