The People's Bible: Web project visits Jersey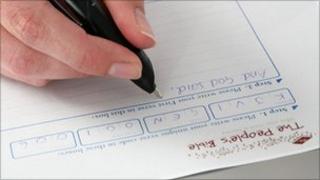 People in Jersey will have a chance to contribute to a web-based project marking the 400th anniversary of the King James Bible.
The People's Bible initiative encourages people to write two verses with a digital pen, which are then uploaded to a website.
The finished version will be presented to the Queen in November.
The project, which is touring the UK and Jersey, visits St Paul's Church in St Helier from Monday to Wednesday.
The Reverend Paul Brookes, from St Pauls, said it was a great opportunity for local people to get involved.
"We want people to recapture the foundations that have shaped our society," he said.
The project was launched on 19 June at Edinburgh Castle - the anniversary of the birth of King James VI of Scotland (King James I of England), at the castle, in 1566.
The Prince of Wales has written the first two verses (Genesis 1:1-2).
People across the UK are invited to take part in the project.