Plan B closes Jersey Live festival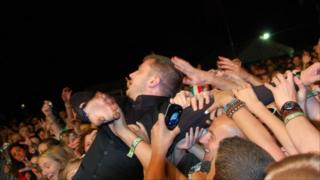 Singer Plan B ended his festival season by diving into the audience at the Jersey Live festival on Sunday.
He performed the material from his Defamation of Strickland Banks album for the final time at the event.
The festival is now in its eighth year and has a capacity of 10,000 per day.
It was headlined by Madness on Saturday and Plan B on Sunday with Mr Oizo and Zane Lowe taking the top spot in the Dance Arena.
One of the biggest crowds of the weekend was for singer-songwriter Ed Sheeran who was performing at 14:30 BST on the main stage.
He attracted an estimated audience of about 5,000 and BBC Radio 1 DJ Huw Stephens was there.
He said: "Ed Sheeran was a massive draw and I guess when you are booking festivals nice and early you kind of stumble upon artists like Ed Sheeran who become massive."
Rapper, singer and actor Plan B, also known as Ben Drew, was the last act to perform on the main stage.
After his final encore Plan B asked the crew to join the band on stage for a mosh pit where they ran at each other and threw microphone stands around.
He then climbed down and dived into the crowd before joining the band back on stage for an "end of Strickland Banks" huddle.
Plan B said: "I lost two stone in the last nine weeks, I'm a lot fitter on stage, I'm holding notes better and I just think the energy is a lot better.
"It is great to sign off the summer with a show as big as this."