Police report Jersey Live underage drinking concerns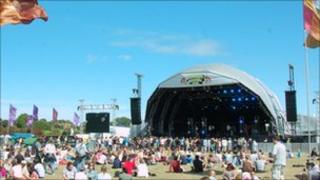 Jersey Police are reporting their concerns about underage drinking at Jersey Live to the Licensing Assembly and the Solicitor General.
The police said 25 people were arrested or detained at last weekend's music festival in Trinity.
They were for offences ranging from being drunk and disorderly, to assaults and possession of controlled drugs.
One person needed surgery for a facial injury after being assaulted outside the venue.
Chief Inspector John Sculthorp said the police were "seriously concerned about the levels of drunkenness and disorder that were witnessed at this year's event".
He said they were also worried about the levels of underage drinking and how many youths needed medical treatment.
St John Ambulance volunteers treated 207 people at Jersey Live, and of 36 patients on the Saturday who were too drunk to look after themselves, 34 were underage.
Police said they had to deal with children as young as 13 who were "grossly intoxicated".
A report about the problems at the festival is being compiled by officers.