Jersey man aged 77 in charity parachute jump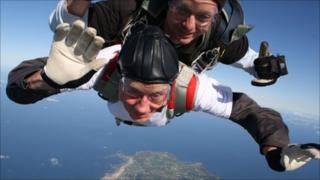 A 77-year-old Jersey man has raised more than £2,000 for a local prostate cancer charity by doing a tandem parachute jump.
Michael Blake has prostate cancer so wanted to raise money for the Macmillan Jersey support group.
Before the jump, Mr Blake said he and his wife had hoped to raise £1,000 for the charity.
He said: "To raise funds you need to do something fairly spectacular."
"I know a lot of other people have done it, but I thought if I could do that and draw attention to it we could raise some money."
He said he had never done anything like this before and asked his wife what she thought about the idea.
He said: "She backed me up 101%.
"I think she had a bit of a doubt about doing it in all honesty, but she realises what it is and what I want and I would like to raise this money and it's about the best thing I can think of doing."
Vicky Peterson from Macmillan Cancer Support Jersey said Mr Blake "raised over £2,000 for the prostate group for his parachute jump which is fantastic".