Channel Island Chief Ministers discuss working together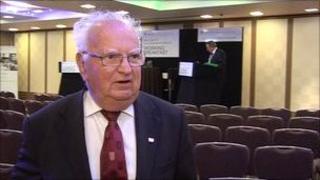 The Chief Ministers of Jersey and Guernsey have met to discuss how the islands can work more closely together.
Jersey's chief minister Senator Terry Le Sueur and Guernsey's chief minister Deputy Lyndon Trott addressed politicians and finance leaders at business meetings in Jersey and Guernsey.
They said great strides had been made in inter-island co-operation.
But Senator Le Sueur said there was still more that could be done.
He said: "I think [the idea is] to stimulate discussion as to how the two islands can help one another work together in a time of economic difficulties.
"It takes time for anything like this to develop, but without such meetings it will never develop.
"We have seen some already with aviation, with competition regulation and so on, and there are others that we can do in the future."
Meanwhile Guernsey's Chief Minister said a single Bailiwick encompassing Guernsey and Jersey could be only a generation away.
Some of the options explored during the meetings included the sharing of hospital facilities and dividing global markets between Guernsey and Jersey.
Deputy Lyndon Trott said the two islands could make progress with their already successful relationship.