St Ouen constable election first in a century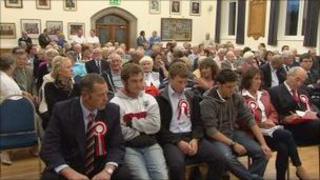 There will be an election for constable in St Ouen, Jersey, for the first time in 108 years when the parish goes to the polls in October.
Constable Ken Vibert is retiring from politics after 17 years and two candidates will stand for the seat.
For every election in the past 108 years only one candidate has come forward for the St Ouen seat.
There are 82 candidates up for one of the 34 seats available for deputy, constable or senator.
Eleven unopposed
A total of 11 politicians, mostly constables, have been returned unopposed.
On Wednesday the candidates for the roles of constable and deputy joined the 13 senatorial hopefuls in the election race.
Constables will face elections in four parishes of twelve - St Brelade, St Lawrence, St Ouen and St Saviour.
Deputies Eddie Noel, John Le Fondre and Anne Pryke have been returned to the States because nobody ran against them.
Constables Juliette Gallichan, John Refault, Len Norman, Phil Rondel, Simon Crowcroft, Dan Murphy, Michel Le Troquer and John Gallichan were also returned unopposed.
The parish of St Helier had a total of 23 candidates for 10 seats across the three districts.
Overall, fewer than half of the candidates for deputy and constable are already in the assembly, so there will be new faces in the chamber from November.
At the moment newly elected members take their seats 14 days after the election, in time to vote for a new chief minister.
If a proposed change to the States of Jersey election law is approved they will take their seats 28 days after the election.
Jersey goes to the polls on 19 October.