Jersey's 2011 election candidates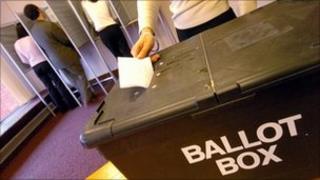 On 19 October Jersey will go to the polls to vote for Constables, Deputies and Senators on the same day for the first time.
There are 82 candidates up for one of the 34 seats available and 11 politicians, mostly Constables, have been returned unopposed.
Thirteen islanders put themselves forward for one of four senatorial seats.
There are also six Senators who are not up for election as they are halfway through their six year term of office.
Constables will face elections in four parishes of the 12: St Brelade, St Lawrence, St Ouen and St Saviour.
Due to a reduction in the number of Senators from 12 to eight there are only four senatorial seats up for grabs in October, bringing the total of States members down to 51 from 53.
The parish of St Helier had a total of 23 candidates for 10 seats across the three districts.
Overall, fewer than half of the candidates for Deputy and Constable are already in the assembly, so there will be new faces in the chamber from November.
There are 61,987 people registered to vote in the election on 19 October.