Jersey air display is cancelled due to bad weather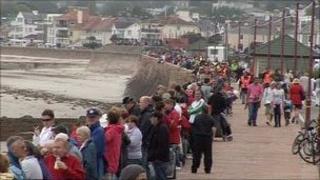 The Jersey International Air Display had to be cancelled on Thursday due to thick cloud and bad weather.
Organisers said the weather conditions meant it was too dangerous for the aircraft to take part in the display.
Guernsey had the same problem earlier in the day with only a handful of flights able to take part.
Paul Tucker, one of the organisers of the static aircraft display at the Airport, said it also had to close because of safety fears.
Mr Tucker said: "It is unfortunate but we have had to say no to opening the static tonight because the visibility is so bad and I cannot see the end of the row of the Red Arrows.
"The airport authorities don't think it is safe to be on the airfield so we have unfortunately had to cancel it."
The Red Arrows were due to perform at the Jersey air display having not missed one in nearly 50 years.
There were hundreds of people in the crowd dressed in red as a tribute to Flt Lt Jon Egging from the Red Arrows who died in a crash in Bournemouth.