Jersey Live organisers dispute drinking comments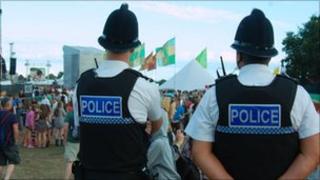 The organisers of the Jersey Live festival have expressed disappointed at police's comments about drinking on the site.
They said they would undertake a detailed review before a debrief with police and Bailiffs Advisory Panel.
The Honorary Police Association endorsed the comments made by the States of Jersey police about the level of drunkenness at the festival.
They said there was excessive drinking by some very young children.
Strictly enforced
The organisers said in a statement that it appeared the minors had consumed the alcohol before arriving at the festival.
They also said the on-site policy of prohibiting the sale of alcohol to under 18's was strictly enforced during the weekend.
Festival co-director Warren Holt said they were committed to the continued development of the event and to ensuring, as far as they were able, that persons over 18 years of age attending Jersey Live were encouraged to drink responsibly.
The Constable of Trinity, where the festival is held, said he would oppose any plan to include camping during Jersey Live in his parish.
Constable John Gallichan, who was re-elected unopposed on Wednesday, also said the current two-day format was enough.
He said if the organisers wanted to recreate the Glastonbury Festival they should go elsewhere and that the site was already at capacity.