Jersey festival may have to breathalyse teenage drinkers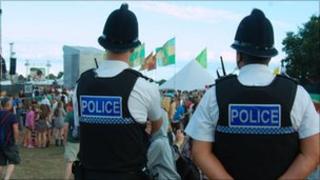 Jersey Live festival organisers say they may have to breathalyse young people who appear drunk before going into the event next year.
Police raised concerns after this year's event that too many teenagers were found drunk on the festival site.
They said they would report their concerns to the Licensing Assembly and the Solicitor General.
Festival director Warren Holt said he was considering breathalysing people to protect the event's licence.
He said: "Nobody can be served alcohol underage because we have such a robust ID system on site so the people who are drunk and underage are getting drunk 99% of the time outside of the site.
"We have have a look and talk to welfare about whether it is possible for us to breathalyse people before they come into the site because they are going to jeopardise our licence in the future."
Ch Insp John Sculthorp, from the States of Jersey Police, said they were "seriously concerned about the levels of drunkenness and disorder that were witnessed at this year's event".
He said they were also worried about the levels of underage drinking and how many young people needed to have medical treatment at the event.