Jersey property head resigns over 'lack of support'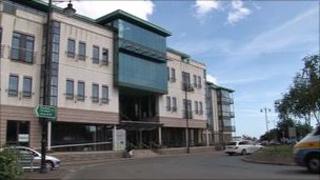 The head of Jersey property holdings has stepped down four years into his five-year contract.
David Flowers told a scrutiny hearing into the failure to buy Lime Grove House for the police that it was due to a lack of support.
Mr Flowers was at the centre of the deal to purchase the property in Green Street, St Helier.
Treasury Minister Senator Philip Ozouf said he felt the island could do better than the original Lime Grove plan.
During the hearing, Mr Flowers indicated that his decision to resign was down to a lack of support within senior government, especially on property matters.
Police station
The States wanted to buy an empty office building in Green Street, St Helier, but the deal was called off by the building's owners.
Earlier this year, it was announced that Lime Grove House, near the Green Street entrance to the tunnel, had been chosen.
The States hoped to buy the building, which has been unoccupied since it was built, and move nearly 200 police officers and support staff there.
But the deal was called off when the owners leased it to a finance company instead.
Mr Flowers told the panel of politicians that trying to achieve change in Jersey was very difficult, particularly in the area of property.
Purpose-built station
He was in favour of the purchase of Lime Grove House and said it was a lost opportunity for the island.
Senator Ozouf said a suitable site for the police was being sought.
He said: "I have saved taxpayers millions of pounds, not spent them. We can do better than the original business plan sent to me on Lime Grove.
"I will work with [home affairs minister] Senator Ian le Marquand to find a suitable site which will be more efficient.
"I am hopeful we will have a purpose-built police station that won't be a financial services block."
The scrutiny hearing concluded on Friday and chairman Sarah Ferguson expects to give a report to the States before 19 September.