Jersey states owned telecom company drops Jersey name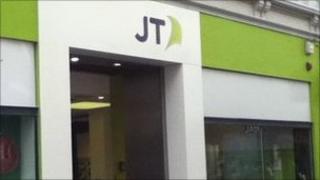 Jersey's government owned telecom company said it was not cutting its links with the island after changing its name to JT.
The company is no longer referring to itself as Jersey Telecom and said its revenue from overseas was catching up with what it makes on the island.
It has had a subsidiary in Guernsey called Wave Telecom for nine years.
Graeme Millar, chief executive of JT Global, said they would remain routed in Jersey but do have expansion plans.
He said: "These days we are more than just Jersey and we are more than just telecoms.
"As recently as 2009 85% of our sales were on Jersey, last year it was 75%, this year it will be 65% and some time in the next year or two for the first time in over 130 years more than half of our sales will be outside of Jersey."
Mr Millar said this was the first time in 10 years they had touched the branding of the company and that it would save them money.
He said: "We have repackaged our sim cards and that re-packaging alone is going to save us about £100,000 per year."