Jersey Co-op plans to redevelop town supermarket site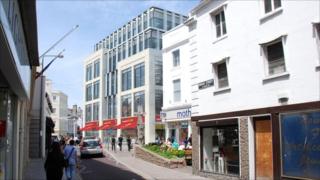 The Channel Islands Co-Operative Society is planning to restore a group of historic buildings in St Helier.
The restoration project depends on plans to modernise its store at Charing Cross being approved.
The society has submitted plans for two large retail units and offices with parking.
The historic buildings in Pitt Street and Dumaresq Street could include the restoration of a mural advertising a gramophone shop.
Julie Shingles, head of property for the Channel Island Co-Op, said: "We will fully restore that and it will look fantastic on that gable wall."
As well as the two large retail units there would be 38,000 sq ft of office space with underground parking.
The society intends to keep the shop open while the work is carried out.
Most of the older buildings that are joined to the current store will remain and will be restored.
Ms Shingles said the new development would cover the same area as the existing block.
She said: "The society has been represented on the site in Charing Cross since 1919 and we have accumulated other areas of the site as the years have progressed.
"There have been numerous proposals for the redevelopment of this site that have been developed for about 10 years.
"We have now finally got a proposal that is an exciting proposal for the site that will do a lot to regenerate and revitalise this area."
One building will be used as a business start up unit and another for a studio and exhibition space.
The historic buildings at the rear of the Co-Op Locale shop have been empty for a long time.
Ms Shingles said: "They are an important group of historic buildings and the society is conscious of that. The majority of them will undergo a level of high quality repair and restoration and we will bring them back into life."
Number Seven Dumaresq Street will become a unit helping people to get started in business.
Number Eight Dumaresq Street will be used as a community art studio and gallery with accommodation above for a resident artist.
"There will be a comprehensive number of uses going on in those buildings that haven't been used for many years and I think it will add greatly to the vibrancy of the street scape there," said Ms Shingles.