Dr Susan Turnbull is Jersey's new medical officer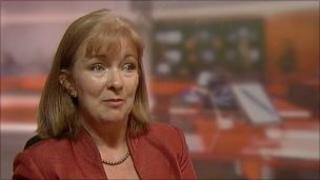 Dr Susan Turnbull has been appointed as Jersey's medical officer of health (MOH).
She has been acting MOH since September 2010 when Dr Rosemary Geller became ill and will take over the role full time after she retired.
Health Minister Deputy Anne Pryke said Dr Turnbull had been "extremely effective" and shown an "abundance of required skill and knowledge".
Dr Turnbull came to Jersey as Deputy Medical Officer of Health in 2006.
She was previously working as Director of Public Health for Bournemouth and before that as a GP and hospital doctor.
During the 1990s she was the Department of Health's medical lead on blood borne viruses.
She said: "It is with great pride that I formally take up the post as Jersey's medical officer of health.
"I look forward to working hard to help protect and improve the health of fellow islanders.
"My family and I love life in Jersey and, in the five years we have been here, could not have been made more welcome.
"There could not be any better place to practise public health medicine."