Concern for Jersey skatepark after stunt video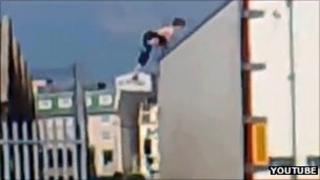 A Jersey skateboarder who helped set up the skatepark in the St Helier harbour said a daredevil stunt could jeopardise the future of the park.
A video posted on YouTube shows a teenager jumping from a fence at the park on to the roof of a moving lorry.
To the shouts of "jump", the video shows the boy jump on to the roof of a second lorry that passes him.
Skatepark campaigner Steven Harben said the stunt had "thrown away" years of hard work.
He said: "He has gone and chosen to do it down the skatepark which took seven years to get hold of, to do this skatepark.
"For one kid to go and do this has thrown seven years of hard work, a lot of money, time and effort just for this one stupid incident."
Jersey's Principle Youth Officer Mark Capern said it was an isolated incident and the park should not close because of it.
He said: "You've had these films and programmes that shows this as a cool way to behave and it puts young people at risk.
"The young people down here who weren't involved in the incident are outraged and are worried it will put their park in danger."
The video, which was posted in August, has had 400 views.