Forty islanders raise £30,000 in Jersey skydive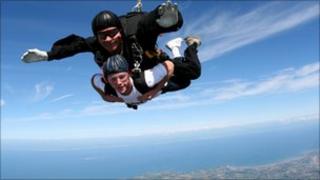 Forty islanders raised £30,000 by taking part in a tandem skydive over Jersey.
They raised the funds for Hope for John, a charity that raises money to help find a cure for the rare fatal Lafora body disease.
John Sharp, 21, is one of 200 people worldwide who have Lafora body disease.
The 40 participants were aged between 20 and 70 and included John's carers and staff from the General Hospital.
Mr Sharp's younger brother, Chris Sharp, was among those who jumped out of a plane over St Aubin's Bay last month.
The aim was to raise funds and awareness of the progressive and degenerative form of epilepsy that is usually diagnosed in children between the ages of nine and 14.
Mr Sharp was diagnosed with Lafora at the age of 15.
'Amazing experience'
Event organiser Carol Rafferty said: "We are delighted at the level of support we have received - not only did we organise the island's largest tandem skydive, we also raised a staggering £30,000.
"We can't thank participants and their supporters enough.
"Every penny raised for Hope for John is used for research into finding a cure for Lafora body disease."
Nigel Pawley, one of the skydivers, said: "Although I landed five minutes after I left the plane, my feet didn't actually touch the ground until the following day.
"It was a truly amazing experience made all the more memorable and humbling, by John's attendance at the event."
Vicky Darbyshire who also took part said: "Words will never describe the feeling I had on that day and still now, I could cry.
"To be part of helping make a difference to John's life and all of the other children suffering with Lafora body disease has been my biggest pleasure.
"It has made me realise that life is so precious.
"I will do anything if it means being able to raise funds and make awareness into this dreadful disease."
Pivotal point
Alice Morgan, Mr Sharp's mother, said she set up the Hope for John charity so money could be sent for much needed research into the disease.
There are two teams working on the research, one in Canada and one in the US.
She said she had chosen to support Dr Berge Minassian in Canada.
Mrs Morgan said researchers were at a very pivotal point.
She said: "Because the disease is so rare it is classed as an orphan disease and receives very little government funding so the doctors depend on private funding.
"I know in my heart that they are not far away from finding the cure, but time is not on our side as the prognosis from manifestation is three to 10 years."
She added: "Lafora body disease is one of the worst possible illnesses I have ever known, turning a previously healthy child into an unrecognisable one."