Jersey's winter bus timetable changed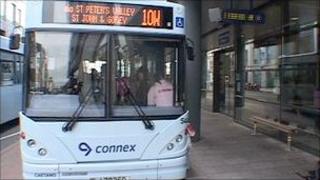 Jersey's transport minister said a number of changes had been made to the winter bus timetable after public feedback.
The department asked for views on the proposed timetable before it launches on 2 October.
Constable Mike Jackson said changes included a later departure on route three and a change of direction on a bus from Rozel.
There are new evening services to St Mary, St John, St Lawrence and St Ouen.
Constable Jackson said: "I have listened to the passenger feedback received whilst the summer timetable has been in operation.
"Services to St Clement and Grouville have been streamlined so that passengers travelling to the St Clement Inner Road no longer have to travel via Longueville and Grouville Station first.
"I am aware that passengers want a better level of service in the evenings, so this winter late journeys to St Mary, St John, St Lawrence, St Ouen and St Brelade's Bay will operate, in addition to the established departures on services one, three and 15."