Jersey weather turned to music from Branchage festival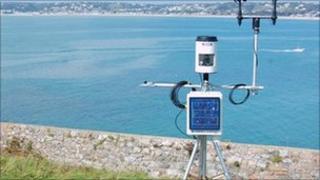 A group of sound artists are transforming the weather into music in Jersey for the Branchage festival.
They have put weather sensors at Elizabeth Castle which generate melodies based on the data they are picking up.
The project, called Variable Four, uses factors such as wind speed and air pressure to make the music.
James Bulley and Daniel Jones said they had been working on it for seven months.
Mr Jones said: "It consists of 24 musical movements, all the western major and minor keys.
"We record that with the full range of orchestral instruments through a series of sessions, edit all that material up and input it into a score.
"The weather then makes a choice of what material to use, how to work with it and it writes its own melodies based on that."
The music from Variable Four at Elizabeth Castle is being broadcast on BBC Radio Jersey's 1026mw frequency until Saturday morning.
Branchage is a mixed arts festival with film, music and art installations taking place between 22 and 25 September.