Jersey Police 'should confiscate alcohol' from adults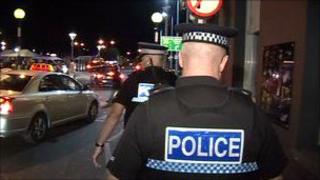 Jersey Police should have more power to confiscate alcohol from adults, according to a panel of politicians.
Currently the police can take it from under-18s and adults who are drunk and disorderly.
But a scrutiny panel wants to see officers' powers extended to confiscate alcohol from adults who they think are at risk of getting into trouble.
Jersey's Home Affairs Minister agreed with this, although he felt alcohol-free zones would not be constructive.
Vini Jones, who works as a street pastor in Jersey, said he favoured a common sense approach.
"Ninety-nine percent of people who are out on a Saturday night are just out there for a good time, they're not out to cause any problems for anybody else, they're just out with their mates having a good time," he said.
The idea was one suggestion made in a review by the Education and Home Affairs Scrutiny Panel into how public places in Jersey should be policed.