Jersey's Home Affairs Minister rejects dog warden plan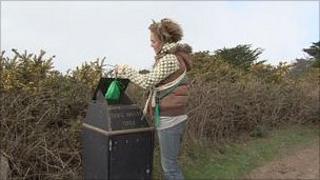 Jersey's Home Affairs Minister has rejected the idea of a dog warden who would make sure owners picked up their pet's mess.
Senator Ian Le Marquand said he would consider using fixed penalties for littering and dog fouling instead.
The warden suggestion was made in a review by the Education and Home Affairs Scrutiny Panel of how public places in Jersey should be policed.
The panel found dog fouling was a key concern for islanders.
Because of the health risks of dog mess the panel wants the problem to be given greater priority with the introduction of a dog warden.
But Senator Le Marquand said it would not be a realistic proposition in the current economic climate.
Tony Andrews, from the Parks and Gardens Department, added: "I think it should be given more priority and if we're going to go down the road of having to use wardens we should look at what we've already got out there.
"We have traffic wardens and community wardens as far as the parishes go and maybe their roles should be enlarged and look a little bit more closely at what we're doing and see if we can improve it."