Jersey Customs tip-off line gets 30 calls a week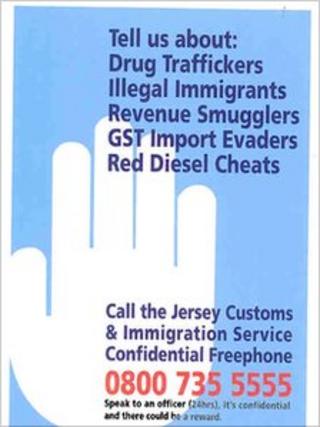 The Jersey Customs and Immigration Service said its tip-off line is receiving about 30 calls a week.
Islanders are reporting suspected drug trafficking, illegal immigrants and other importing offences.
Steve Le Marquand, the department's head of law enforcement said the tip-off line gets more than 1,300 calls a year.
He said callers are also reporting those not paying the goods and services tax on items they bring into Jersey.
He said a growing number of people were reporting illegal immigrants.
He said: "Obviously there's no immigration control between the UK and Jersey so they come through and aren't detected.
"It's only when they start working in the island that we subsequently get information and go and deal with the matter."
Calls to the freephone number are confidential and there could be a reward for information.
Mr Le Marquand said: "The reward is based on the quality of the information that we get.
"So if you're going to give malicious or incorrect information, you are not going to get a reward."