Jersey parishes win silver gilt at Bloom awards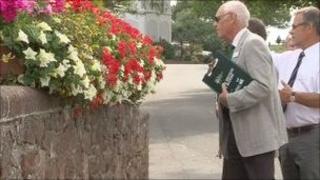 St Saviour has won the second highest prize in the Royal Horticultural Society Britain in Bloom competition.
The co-ordinator of the Silver Gilt winning entry said the team was thrilled to win the award.
Elaine Hanning said she was delighted as it was "an incredibly high level to achieve".
The parish was one of two from Jersey winning the second highest prize with St Saviour winning in the town category and Grouville in coastal class.
Mrs Hanning said: "I am actually quite shivery and I am covered in goosebumps, it is an incredibly high level to achieve, the standard in Britain in Bloom is extraordinary.
"To be so near to getting the top honour is wonderful."
St Martin in Guernsey won gold in the small town section and Whitby in Yorkshire won gold in the small coastal area section in the awards
Royal Horticultural Society judges give the gilt award to those they believe have the potential to be gold medallists in future.
Bernard Rebours from Grouville in Bloom said he was pleased with the achievement.
He said: "We are up against a lot of towns and big communities where money is put in by the councils, so it is a bit different."
Britain in Bloom is one of the largest environmental campaigns in Europe, which aims to improve people's lives through community gardening.