Furze fire breaks out on St Ouen's headland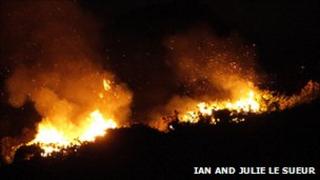 A furze fire has burnt an area of headland about the size of 14 football pitches at St Ouen's Bay in Jersey.
The fire service was called to an area near La Pulente and Petit Port at about 19:15 BST on Sunday.
Crew commander Chris Powell said a "strong southerly wind fanned the 10ft flames, which made for challenging conditions in which to bring the fire under control".
He said the cause of the fire was still under investigation.
Mr Powell said the blaze spread to an area about 2296ft by 656ft (700 by 200 metres) but there was no threat to nearby properties.
He said two firefighters stayed at the scene overnight to make sure embers blown in the wind did not start another fire.
He said: "The fire and rescue service would like to thank and praise the members of the public whose calls to the joint control centre gave us early warning of this incident."
Jersey's Environment Department said it would be assessing the damage to plants and wildlife on Monday.