BBC Jersey looking for Battle of Flowers float partner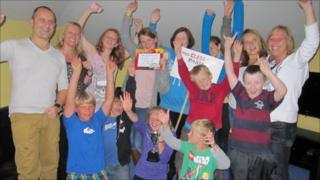 BBC Jersey is looking for a float building team to help create a special float for next year's Jersey Battle of Flowers.
The BBC is celebrating 30 years in Jersey in 2012.
BBC Jersey's Matthew Price said: "We are hoping to form a partnership with a float building team, to create a float for the 2012 Battle of Flowers that celebrates the 30th anniversary of the BBC's arrival in the island in 1982."
This year, BBC Jersey took part in the day and moonlight parades for the first time, with a 50s themed entry.
For the first time the floats in the Moonlight parade were judged on their Best Carnival Atmosphere with BBC Jersey providing one of the trophies.
The prizes went to the Optimists for their Wild West float and St Peter Juniors won the BBC Jersey trophy for Best Illuminated Float under 25ft.
The cup will be given on an annual basis to the entry deemed to best capture the mood of the Moonlight Parade.
Twenty seven floats entered this year plus the marching bands and other entertainers.
Interested float building teams are asked to contact BBC Jersey if they would like to work together in the 2012 parade.