Sales boost for Channel Islands Co-operative Society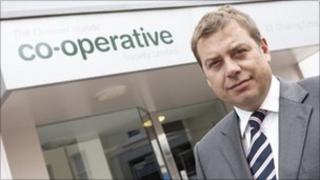 The Channel Islands Co-operative Society has announced a boost in sales for the first half of 2011.
Turnover increased by £5.36m, or 7.2%, compared to the same period last year.
The company said it was partly due to the closure of some of the islands' Checkers stores.
Colin Macleod, chief executive of The Co-operative Society, said despite difficult economic times the company seemed to be doing well, which was good news for shareholders.
During the six-month period that the figures cover, the society opened a store in Don Street in St Helier and obtained outline planning permission for the Leale's Yard development in Guernsey.
Meanwhile, St Andrews En Route is due to open in Guernsey in November, and a proposal has recently been submitted for a £15m redevelopment of the Charing Cross site in St Helier.
Mr Macleod said: "Our intention is to carry on investing in our business and in the islands generally whilst returning the surplus to our loyal members.
"We expect to spend £12m with local producers in 2011 which is far more than any of our competitors."