Jersey Lieutenant Governor gives his first speech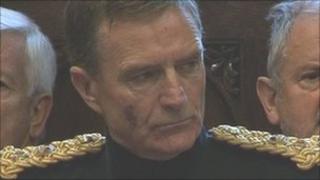 Jersey's new Lieutenant Governor has praised politicians in his first speech to the States Assembly.
It was the first of only two times Gen Sir John McColl is expected to address the States.
The next time he is likely to speak is in five years, when his term of office is over.
Sir John complimented politicians for their willingness to examine and adjust the way the States work and said he was looking forward to his many new duties.
He said: "I take up my duties with pride and humility, for me there could be no greater honour than to represent Her Majesty The Queen in one of her crown dependencies.
"To do so on such a beautiful island as Jersey is doubly fortunate.
"My wife and I are resolved that Jersey and the well-being of the people of Jersey will be our primary concern over the next five years.
"I know that it will be five years before I speak in this forum again, in the intervening period I resolve to be a good listener."
On Tuesday night politicians will have a chance to meet Sir John and Lady McColl at an official dinner.