Jersey stabbing: Funeral Mass for four of those killed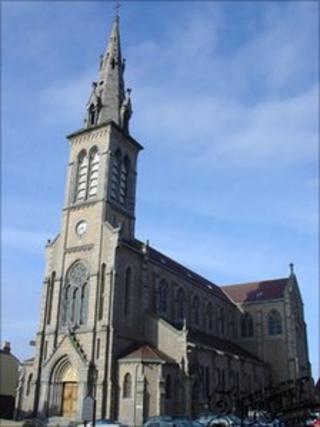 The funeral Mass for four of the six Jersey stabbing victims is due to take place on Thursday.
Marek Garstka, who was 56, his 30-year-old daughter Izabela Rzeszowska and her children, five-year-old Kinga and two-year-old Kacper, died at Victoria Crescent in St Helier from stab wounds.
They will be cremated at private services on Thursday afternoon.
The caskets of ashes will be taken to a Mass at St Thomas' Roman Catholic Church on Thursday evening.
The ashes will then be repatriated to Poland.
Jersey's Catholic Dean, Monsignor Nicholas France, said Izabela's brother and other relatives were expected to go to Jersey for the cremation and Mass.
The Mass for 34-year-old Marta de la Haye and her five-year-old daughter Julia, who also died in the incident on 14 August, took place at St Thomas' on Saturday.
Monsignor France and Father Jan Swiatek, Jersey's Polish Catholic Mission Priest, will take the service.
The relatives have asked that donations in lieu of flowers be given to local charities Help a Jersey Child and the Centre Point Trust.