Jersey restaurants most honoured says tourism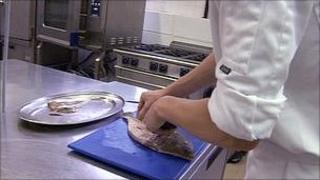 Jersey has the highest concentration of AA-honoured restaurants among British holiday destinations and is most honoured by head of population, according to Jersey Tourism.
Eighteen Jersey restaurants are featured in the motoring organisation's Restaurant Guide for 2012.
Only London and Edinburgh have more AA rosettes for their restaurants.
London has 678 rosettes, Edinburgh has 56, while Jersey in third place has 35.
According to Jersey Tourism, research shows that when calculated per head of population, Jersey outperforms London and Edinburgh.
Among the 18 restaurants featuring in the AA Restaurant Guide, the Michelin-starred Ocean Restaurant and Bohemia received four rosettes.
The Grand and Longueville Manor won three rosettes, and seven restaurants received two rosettes.
Senator Alan Maclean, Economic Development Minister, said: "Jersey's outstanding quality of local produce and culinary skill has steadily developed in recent years to place us in a prestigious group of top British restaurants."