Jersey desalination plant 'may be needed' in dry spell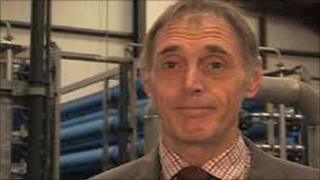 Jersey will have to convert sea water into drinking water for the first time in five years if the dry weather continues.
The island's reservoir levels are at 50% and Jersey Water is urging islanders to use water sensibly.
The desalination plant was last used in 2006.
But Jersey Water said with unusually hot weather and Val de la Mare reservoir unavailable it could have to resort to using the plant.
Val de la Mare reservoir is being refurbished, with a water-tight "membrane" being installed to prolong the life of the dam.
The desalination plant costs about £4,000 a day to run and the company said it would only use it if absolutely necessary.
Howard Snowden, the managing director of Jersey Water, said: "We take a prudent approach to this obviously.
"We have the desalination plant, we don't want to run it unless we really have to. It's very expensive to operate but it's there as our insurance policy in case we need it.
"So we are asking all of our customers just to be careful with their use of water and not to waste water."