Jersey stabbing: Funeral Mass for four victims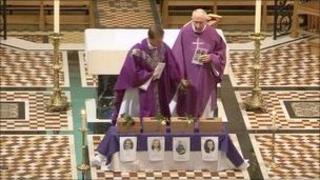 A funeral Mass has been held to remember four people stabbed in St Helier.
Marek Garstka, who was 56, his 30-year-old daughter Izabela Rzeszowska and her children, five-year-old Kinga and two-year-old Kacper, died at Victoria Crescent in St Helier from stab wounds.
They were cremated in private services on Thursday before their ashes were taken to St Thomas' Church.
The ashes will be repatriated to Poland.
Catholic Dean of Jersey, Monsignor Nicholas France, and Father Jan Swiatek, Jersey's Polish Catholic Mission Priest, took the service.
Monsignor France said there was a good turnout. He said: "I think this is an opportunity always to remember, we can learn from what has gone before us.
"Above all, work to sustain the sense of solidarity that has been a special mark of these past few weeks."
The other two victims, Marta de La Haye and her daughter Julia, were remembered at a special Mass on Saturday.
Damian Rzeszowski, 30, has been charged with six murders and is being held in a secure facility in the UK.